Authorize Distributor Pulsafeeder Indonesia
Dosing Pump Spare Part Pulsafeeder
Dosing Pump Spare Part Pulsafeeder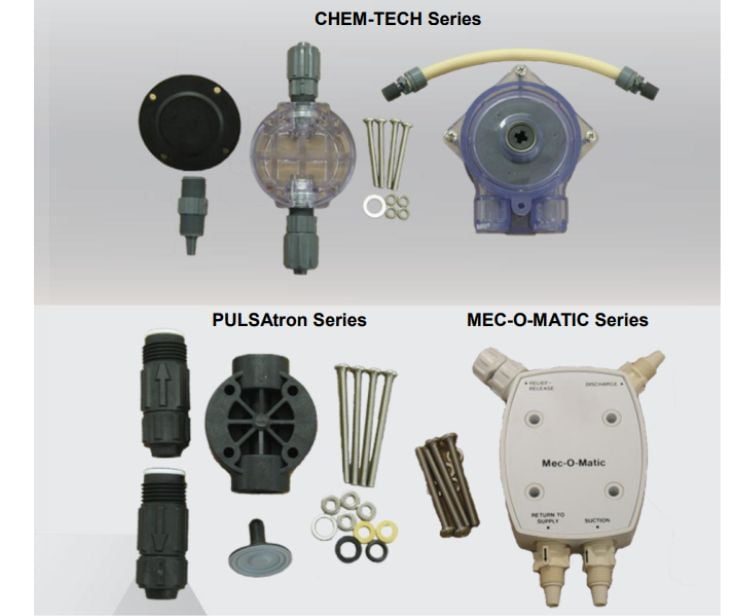 Dosing pump spare part Pulsafeeder adalah komponen penting yang digunakan untuk mempertahankan dan memperbaiki pompa pengukur Pulsafeeder. Spare part ini dirancang khusus untuk kompatibilitas dan kinerja optimal dengan pompa Pulsafeeder.
Dosing pump spare part dapat membantu Anda mengurangi waktu henti dan memulai bisnis kembali dengan cepat. Spare part juga dapat digunakan sebagai pemeliharaan preventif untuk memastikan kinerja tinggi yang terus menerus dari dosing pump Pulsafeeder Anda. 
Produk Dosing Pump Spare Part Pulsafeeder
Salah satu bagian dari Dosing Pump Spare part Pulsafeeder adalah KOPkit. KOPkit tersedia untuk Seri CHEM-TECH Prime Performance, Seri 100, Seri 200, Seri XP & XPV; Seri Mec-O-Matic Stingray dan Seri Dolphin; dan semua dosing pump PULSAtron.
UNTUK POMPA DIAPHRAGM: KOPkit mencakup perakitan Valve, Diaphragm, Head Screws, Washers and an
exploded view assembly drawing.
UNTUK POMPA PERISTALTIC: KOPkit mencakup perakitan Tube, Retaining Clamps, Hose Clamps and an exploded
view assembly drawing.